Snub fin and Indo Pacific Humpbacks are found in very small discrete populations along the Great Barrier Reef. Curtis Island in Gladstone Harbour and the Fitzroy Basin are areas where viable populations of both species have managed to exist . But their future is no longer assured.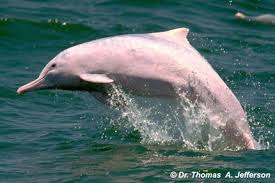 The Fitzroy Basin Authority released a detailed technical report it commissioned into the likely impact of the propositions to exports millions of tonnes of coal a year from Port Alma and Balaclava Island.
There are two independent proposals for new ports currently under assessment: Xstrata's Balaclava Island Coal Export Terminal and the Fitzroy Terminal Project to use barges to carry coal to deep water where it can be transferred to ships.
Two further developments are also proposed for Balaclava Island and Curtis Island.
AN independent scientific assessment of the coal port proposals for the mouth of the Fitzroy River has concluded that they pose significant threats to wildlife and could lead to extinction of the rare Australian snubfin dolphin.
The report says while there are mitigation measures that reduce the impact of individual projects, the most significant impacts are anticipated from cumulative effects.
It concludes the snubfin appears extremely vulnerable to local extinction. The report also touches on other risks associated with ports including noise, dust, marine debris and contamination by oil and fuel.
In Gladstone Harbour, the mortality of Snubfin and Indo Pacific Humpback Dolphins is unsustainable. As usual, the mortality has been ignored by the Queensland and Federal governments in spite of the fact that both these dolphin populations are listed under the Environment Protection & Biodiversity Conservation Act.
These are rare dolphins and there is no excuse for the lack of protection.