Great Barrier Reef World Heritage Area
Australia is set to lose the World Heritage status of the Great Barrier Reef.
The destruction of this magnificent and unique environmental legacy can be laid directly at the feet of the Gillard government aided and abetted by the Queensland government. As Australia takes a dishonourable place as the world's quarry, the political parties who run this ancient land have no regard for environmental legacies or for future generations.
AFA set up a blog ( www.greatbarrierreef.org.au ) two years ago in an attempt to overcome the media shutdown on the deliberate destruction of the Great Barrier Reef. It is deeply shameful that the mainstream media has almost completely ignored the ongoing trashing of this magnificent Reef.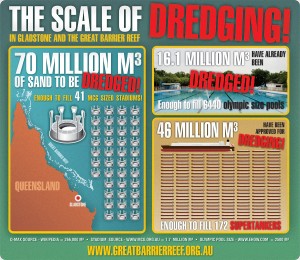 With ports either under development (Gladstone) or scheduled for development, the sheer extent of dredge spoil which will be dumped on the Reef is completely unacceptable. The loss of the World Heritage status is unacceptable. UNESCO World Heritage Secretariat has warned the Australian government that the Reef will be downlisted to World Heritage in Danger unless steps are taken to address the nightmare created by the resource industry.
Australia's economy has become increasingly dependent on the resource industry whilst the agricultural lands and water courses are destroyed by coal seam gas. Our manufacturing industries are on their knees. The commercial fishing industry has borne the brunt of blame along with farming industries. The divisions created by the government/politically generated spin which sets Australians against Australians is a tragedy.
AFA believes no political party, including the Greens, have taken the action that's needed to save the Great Barrier Reef. AFA believes that all new Port development must be stopped. That a second shipping channel in Gladstone Harbour must not go ahead.
Federal and State governments need to bite the bullet and start assessing and moving towards dramatic changes in our economic future. Renewable energy, restoring and protecting our agricultural lands, supporting the commercial fishing industry which has some of the tightest regulations in the world, ensuring Australia has a healthy manufacturing industry – these are responsible directions for the 21st century.
To insist that the resource industry is the only solution for a healthy Australian economy is a journey to environmental destruction and eventual economic chaos.