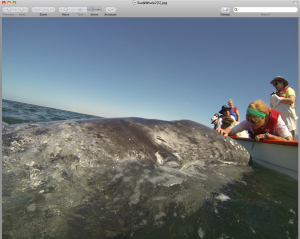 Hard to believe, but these are the same whales which the International Whaling Commission grants each year a quota of 140 Gray whales to the Russian Federation.    These friendly whales who are unique in their willingness to trust humanity, are chased by Russian whalers for up to seven hours and there's documented statements in IWC records indicating up to 60 rounds of ammunition are fired into the whales.
What is really incredible is that the Gray Whales know the difference between the gentle birthing lagunas in Mexico and their fight for life in the waters of the Chukchi Sea off Siberia.
When will the governments learn that humanity is only a small portion of Planet Earth and that we share our world and depend on our survival via the vibrancy and health of the non humans?
Shame on the politicians who allow this slaughter – driven by the US.   America is now leading the pack in terms of the most powerful anti whaling nation on earth.   Japan would never get away with the slaughter in the Antarctica if the US did not support the kill by refusing to impose trade sanctions.