For a young dugong, every day's a salad day
23 January 2013, NEWS.com.au
IT'S fair to say that Wuru the dugong is a bit of a salad fan.
The 400kg marine mammal, along with Sea Life Sydney Aquarium's other dugong, Pig, chomp through an astonishing 1.5 tonnes of cos lettuce every week. That's $140,000 a year just for the lettuce, not to mention the cost of two full-time staff whose sole task is to prepare the greenery for consumption.
But it's a price well worth paying, say the animals' keepers, both to keep the dugongs happy and healthy and to help raise awareness about the species' plight in the wild.
Sea Life conservation fund manager Claudette Rechtorik said the Queensland dugong population was still recovering from the devastating floods of 2011, when millions of tonnes of debris washed out to sea and obliterated the fields of seagrass they feed on.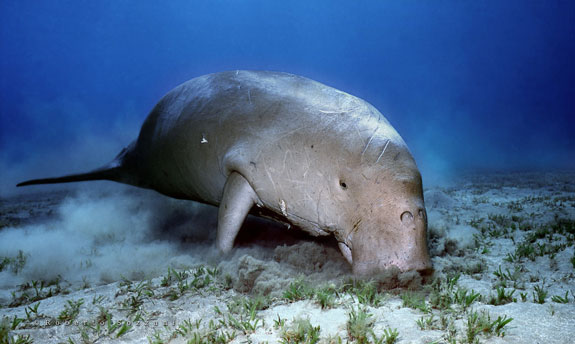 The aquarium helps fund research into the species, whose habit of surfacing in shallow water supposedly gave rise to the maritime legend of mermaids.
Wuru and Pig, two of only six captive dugongs in the world, were rescued as juveniles after being orphaned in the wild.
More information: Click Here
Image: Female Dugong ' Wuru' at Sydney Aquarium, Darling Harbour, cared by a team of aquarists that continually feed her lettuce leafs. Photo Credit : Craig Greenhill : The Daily Telegraph