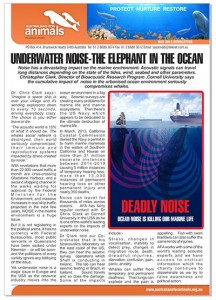 Our May 2013 Newsletter is available now as a printable PDF. Please click HERE or follow this link:
https://www.australiansforanimals.org.au/wp-content/uploads/2013/04/Australians_for_Animals_Newsletter_May_2013_Email.pdf
Articles included:
UNDERWATER NOISE-THE ELEPHANT IN THE OCEAN
Noise has a devastating impact on the marine environment. Acoustic signals can travel long distances depending on the state of the tides, wind, seabed and other parameters. Christopher Clark, Director of Bioacoustic Research Program ,Cornell University says the cumulative impact of noise in the urbanised ocean environment seriously compromises whales. READ MORE..
GREAT BARRIER GRIEF SHIPPING VESSEL TRAFFIC
Greenpeace revealed last year the massive increase in coal ships, AFA committee made a decision to focus on noise. READ MORE…
CORAL IMPACTED BY NOISE
More than 50% of the Reef's coral has gone. Whilst the governments blame the crown of thorns starfish, invasions of these kinds of terminal predators are symptoms of a sick ecosystem. READ MORE…
URANIUM TO BE SHIPPED FROM
TOWNSVILLE ACROSS THE REEF?
The United Nations' world heritage advisory body has expressed serious concerns with the Queensland Government's potential plans to export uranium across the Great Barrier Reef. READ MORE…
BOB IRWIN & COLIN RIDELL MOUNT A HUGE CAMPAIGN AGAINST INDIGENOUS HUNTING OF ENDANGERED AND VULNERABLE SPECIES
Thankfully, these two wonderful activists have mounted a long overdue campaign to stop the appalling slaughter of dugongs and turtles which is rife in Queensland, and the Torres Strait Islands. READ MORE…